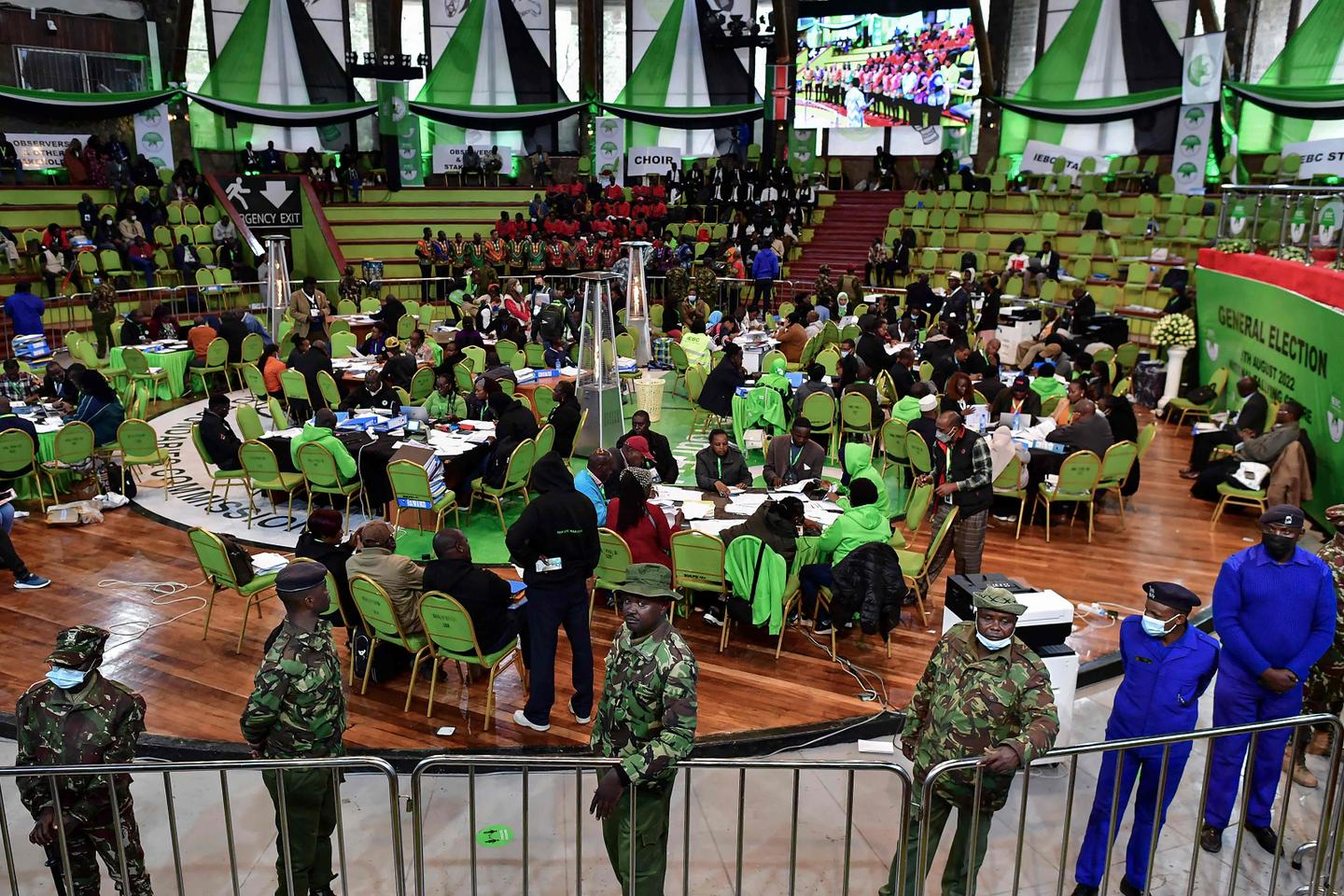 Since they cast their ballots on Tuesday, Kenyans have been holding their breath ahead of what could be one of the tightest presidential contests in the country's history. On the morning of Sunday, August 14, the Independent Electoral Commission's count showed that Deputy President William Rudo had a neck-to-neck lead with 51.25% of the vote to 48 in almost half of the polling stations. 09% for Raila Odinga, a historical figure in the opposition supported by outgoing President Uhuru Kenyatta today. The commission later stopped the live telecast of the results without giving an explanation.
But the daily count Daily Nation, based on official data from nearly 90% of polling stations, showed a largely narrow margin in the evening, Mr. Mr Ruto won 49.91% of the votes. Odinga received 49.41% of the vote – ahead of two other candidates (George Wajakoya and David Waihika). ) each receiving less than 0.5% of the vote. If none of the top two candidates collects more than 50% of the vote and 25% in half of the forty-seven districts, Kenya will go to a second round – for the first time in its history.
Patience was unanimously welcomed
The patience of Kenyans is unanimously welcomed in a country that has experienced several episodes of post-election tension and violence, sometimes bloody, in recent decades.
Sunday, Messrs. Ruto and Odinga visited churches in the capital, Nairobi. Dressed in a white shirt and light jacket, Mr Ruto called for a peaceful continuation of the election process during the church service: "We voted peacefully, we went through this process peacefully, and my prayer is that this process ends peacefully. »
Mr. Odinga, dressed in blue, his campaign color, recited the prayer of St. Francis: "I want to become an instrument to bring peace, healing, unification and revival of hope in our country. »
Elsewhere, Sunday services, popular in this religious country, are the occasion for appeals to responsibility. When the results are announced, "Don't create problems or confusion but pray for the new president that God has given us"Bishop Washington Okonyo Ngede opened before three hundred faithful gathered in Kisumu, Mr Odinga's stronghold in the west of the country. "Leaders come and go, but Kenya lives forever"Odinga added this long-time friend of the family.
In Eldoret, Mr Ruto's stronghold in the Rift Valley, Catholic Diocese Bishop Dominic Kimengich also appealed to politicians to remain calm. "Very careful with their words".
"We as Kenyans have experienced this and we know any irresponsible comment (…) Can easily provoke conflict", he told Agence France-Presse (AFP) before a mass in Yamumbi parish. Called politicians"Accept the Will of the People" Revealed at the ballot box.
Registration of Elected Women
US Secretary of State Anthony Blinken echoed, Saturday on TwitterAbout fifteen non-governmental organizations (NGOs), including Amnesty International, and trade unions made the call on Sunday. "Be patient".
"We commend Kenya for its peaceful conduct during the election and call for calm as the results are verified"They said in a statement.
About 22.1 million voters were called to the polls on Tuesday to choose a successor to President Uhuru Kenyatta, along with their governors, members of parliament and local elected officials.. The results of local government elections are getting trickier and dragging. They do not suggest which camp will please the parliamentary majority, but already the historic progress of women is emerging.
Due to this, the Election Commission has faced a crisis. The country, East Africa's economic engine, has been heavily criticized not only because it has been dormant while awaiting results, but after a presidential election five years ago that was invalidated by the Supreme Court. On Friday, he admitted that due to interference from political party supporters, collection, counting and verification took longer than expected.
The election is closely scrutinized by the international community. Kenya is indeed a democratic anchor in the region and the results of all presidential elections there have been contested since 2002.
The August 9 poll saw nearly 65% ​​voter turnout (compared to 78% in August 2017), amid rising inflation and frustration among the political elite.
"Total coffee junkie. Tv ninja. Unapologetic problem solver. Beer expert."