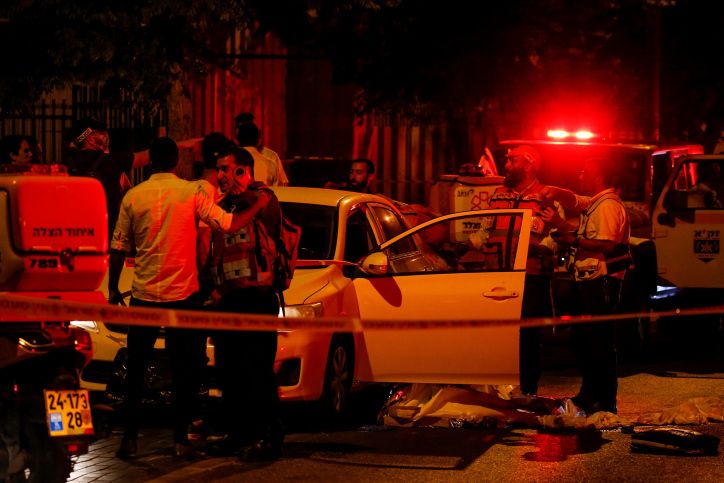 Three people were killed and at least three were injured in what became known as Thursday's attack in the central Israeli city of Elot.
The two terrorists attacked passers-by with automatic weapons and axes, shouting "Allah Waqfar" before fleeing in a car on a main street in the city. According to preliminary information, the intelligence services know that they are from the West Bank.
Residents were asked not to leave their homes and to close their windows. A large number of security forces have been deployed in the area in search of terrorists.
One of the victims, a 40-year-old man, was found pulsating with an open wound on Ibn Quirol Street, while the other two victims died shortly after the attack from their injuries, rescuers said.
Emergency services rushed to the scene and gave first aid to the injured before taking them to the hospital.
Hamas spokesman Hassim Qasim welcomed the attack but did not claim responsibility.
"The Knights have taken action in the wake of the aggression against al-Aqsa and the continued aggression of its institutions and settlers. The Palestinian people are protecting their holy sites. It is unlikely that al-Aqsa will be harmed. The aggression will not go unpunished," he said.
Mohammad Hameed, a senior Islamic Jihad official, also praised the attack, saying it was a "heroic act and a victory for al-Aqsa Mosque".
Former Prime Minister Benjamin Netanyahu tweeted, "Tonight is the deadliest attack in the city of Elat.
Israel has been hit by a wave of Islamic terrorism since March 22 and has killed 18 people to date.
"Total coffee junkie. Tv ninja. Unapologetic problem solver. Beer expert."