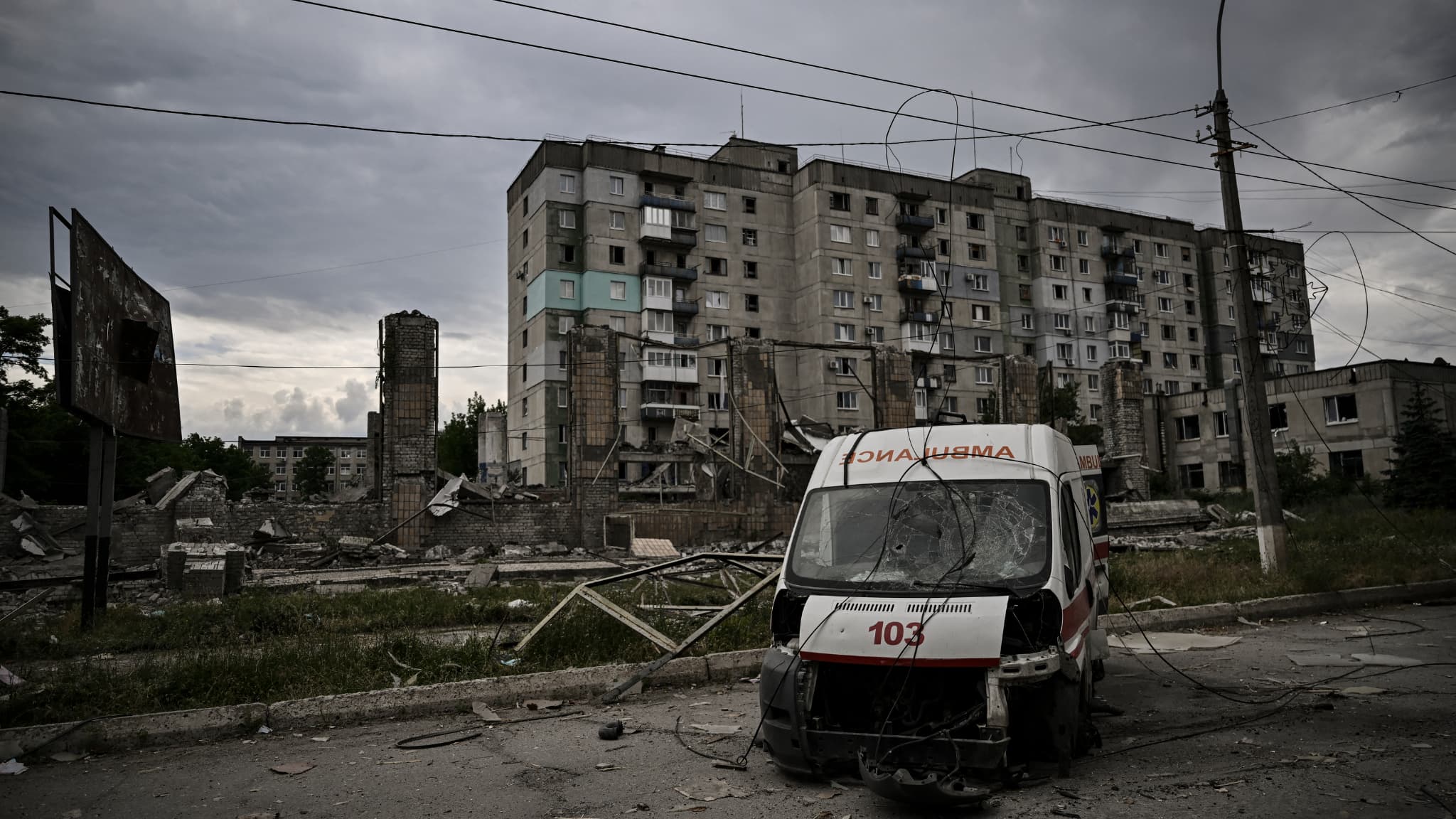 Russian officials say 200,000 tons of grain were lost in the occupied Kherson region
About 200,000 tons of grain could not be harvested in the Ukrainian region of Kherson, mostly occupied by Russian forces, as Moscow-appointed officials accused Ukrainian fields of burning and mining on Wednesday.
"Not only burnt crops are lost, part of the fields (…) are cut down," said Vladimir Zalto, head of the Russian occupation administration. According to the Russian news agency TASS. "Kherson region cannot harvest 200,000 tons of grain, which is a lot," he said, adding that the total harvest would be 1.2-1.3 million tons instead of 1.4 million.
The Russian offensive launched on February 24 against Ukraine has destroyed this breadbasket, threatening global food security.
More than six million Ukrainians are internally displaced
The International Organization for Migration (IOM) and more than 6 million Ukrainians are internally displaced. United Nations High Commissioner for Refugees (UNHCR). They join some 5.7 million Ukrainians who have been registered as refugees in other European countries since the start of the invasion.
Russian gas decision in France: "We have taken drastic measures to prepare for winter", says Agnes Pannier-Runacher
"We have taken drastic measures to prepare for the winter. These measures increase our natural gas reserves. We increase them by supplying liquefied natural gas from many parts of the world," explains BFM Business Agnes Panneer-Runacher, Minister. Energy conversion. And "today we are ahead of previous years in replenishing our strategic storage".
Negotiations begin in Istanbul on Ukrainian grain
Four-party talks on resuming Black Sea exports of Ukrainian grain began at 2:15 pm (1:15 pm French time) in Istanbul on Wednesday, a Turkish official told AFP. The talks bring together military experts from Ukraine, Russia, Turkey and the United Nations with the aim of establishing safe corridors through the Black Sea.
Ukraine: At least 5 killed in Russian attack near Mykolaiv
At least five civilians were killed in a strike that opened fire on a building near Mykolaiv, a large city in southern Ukraine. Deputy Head of the Presidential Administration Kirill Tymoshenko announced on Wednesday.
Condemning several rocket launches in several places in the region, he pointed out in a telegram that "a hospital and residential buildings were damaged" and that "according to preliminary data, five civilians were killed in the Vitovsk district east of Mykolaiv." He accompanied his message with a photo of the destroyed building, showing a small three-story building with one facade completely demolished.
Russia is seeking two months of pre-trial detention against Yachin, an adversary who has denounced Bautza's crimes.
A Russian intelligence agency has called for a two-month prison sentence for Ilya Yachin, a rival who faces up to 10 years in prison for "spreading disinformation" about the military. Russian authorities on Tuesday opened a "criminal investigation" against 39-year-old Ilya Yachin, the last of the Russian dissidents to be arrested, while most of them are in exile or already in prison.
He chose to stay, publicly condemning the intervention in Ukraine. The man was due to complete a 15-day prison sentence on Tuesday for disobeying police when he was charged with spreading lies about the Russian military's involvement in Ukraine. According to his lawyer, authorities accuse him of condemning the killing of civilians by Russian troops in the Ukrainian city of Bautza on April 7 on his YouTube channel, which Russia says was a staged crime.
"If Russia were to cut off gas completely, there would be an impact," says Oliver Veran
"If Russia completely cuts off gas, gas availability in France and Europe will be affected," government spokesman Olivier Veran said Wednesday, adding, "The threat is real and serious." However, "France is much less dependent than its European neighbors on Russian gas: 17% of the gas used in France comes from Russia. For the Germans it is 55%."
"In the face of this threat, we are rebuilding stocks, we are diversifying our distribution channels and we are asking everyone to be mindful of using gas," he said. "If I lower my home's heating by one degree in autumn, I save 7% on average gas consumption".
Strike in Chasiv Year: Death toll rises to 47
The death toll from Sunday's Russian bombing of an apartment building in Chasiv Yar (Donetsk) in the same mine basin rose to at least 47, according to Ukrainian relief on Wednesday morning. The latest report puts the death toll at 45. Tuesday evening.
Grain Talks: A 'Secret' Meeting
Military experts from Ukraine, Russia and Turkey are in Istanbul on Wednesday to discuss the possibility of grain exports from Ukrainian ports under the Russian blockade. Holding these discussions behind closed doors among experts and in the presence of a United Nations delegation has enormous discretion, which the Turkish Defense Ministry wants to keep "secret," he told AFP.
The location or time of the meeting was not made public by the ministry, but Russian representatives arrived in Istanbul late in the morning and, according to Russian agency RIA Novosti, discussions are set to begin at 11:00 GMT. According to the same source, a statement will be released to the press at the end of the work.
Russian bombing kills at least 1 in Kharkiv
The governor of Kharkiv region said in a telegram that at least one person was killed in a new Russian bombardment of the eastern Ukrainian city.
"Terrorism Continued by Russian Aggressor on Civilians in Kharkiv Region", The governor wrote in a telegram.
5 people were injured in the same strike.
Russia is likely to capture several cities in the Donbass in the coming weeks
British intelligence said on Wednesday that Russia could seize several towns in the Donbass, such as Sivarsk and Dolina, in the coming weeks as troops from Moscow close in on Sloviansk and Kramatorsk.
"At this stage of the operation the areas of Sloviansk and Kramatorsk remain the main objective," writes British.
At the same time, the Russians are trying to undermine Kyiv's authority in the occupied cities by creating new administrations.
Germany publishes full list of weapons supplied to Ukraine
The German government released a full list of military equipment on Tuesday after providing Ukraine with 2 billion euros in support.
The list mentions 7 Panzerhaubitze 2000 guns, cars, armored vehicles, air defense systems and 14,9000 anti-tank mines.
Full list Access here.
Negotiations between Russia and Ukraine on grain issue begin
A meeting between Russians and Ukrainians is set to open in Turkey on Wednesday in front of UN delegations on the thorny issue of grain exports through the Black Sea. "They will meet tomorrow in Istanbul on the safe delivery of grain waiting at Ukrainian ports to international markets," Turkish Defense Minister Hulusi Akar said on Tuesday.
Russia confirmed the meeting, stressing in particular that it wants to keep "the possibility of controlling and searching ships to avoid arms smuggling". Ukraine, for its part, said it was "in favor of resolving the question of the release of Ukrainian grain under the auspices of the UN."
"Current Russian offensive actions may be aimed at preparing for future attacks," says the ISW
"Russian forces continue to regroup, rest, reorganize and replenish." The Institute for the Study of War (ISW) says in its final phase, talks about "operational discontinuity". The military, however, continues to "bomb critical areas to establish conditions for future ground attacks". "Current Russian offensive actions may be aimed at preparing for future attacks, the timing of which remains uncertain," the ISW added.
According to Ukrainian officials, more than 37,500 soldiers were killed on the Russian side
In its daily report, Ukrainian officials published the human and material damage inflicted on Russia since the beginning of the conflict this Wednesday. According to them, 37,570 soldiers were killed on the Russian side. It also stated that 3832 armored vehicles, 188 helicopters or 1649 tanks were destroyed.
It is important to emphasize that these figures are not given by the Russian side, and Ukraine gives little information about its own military losses.
Despite Ukraine, Brazil wants to buy diesel from Russia
Despite the invasion of Ukraine and sanctions against Moscow, Brazil wants to buy as much diesel as it can from Russia, Brazilian Foreign Minister Carlos Alberto Franco Franca told the UN on Tuesday.
After Brazilian President Jair Bolsonaro's announcement, an agreement on the matter with Russia has been "almost" reached.
"Ensure that there is enough diesel for the agricultural industry and Brazilian drivers," said the UN, led by Brazil. The minister told reporters at the Security Council meeting.
Hello!
Welcome to this live stream dedicated to following the war in Ukraine
"Total coffee junkie. Tv ninja. Unapologetic problem solver. Beer expert."