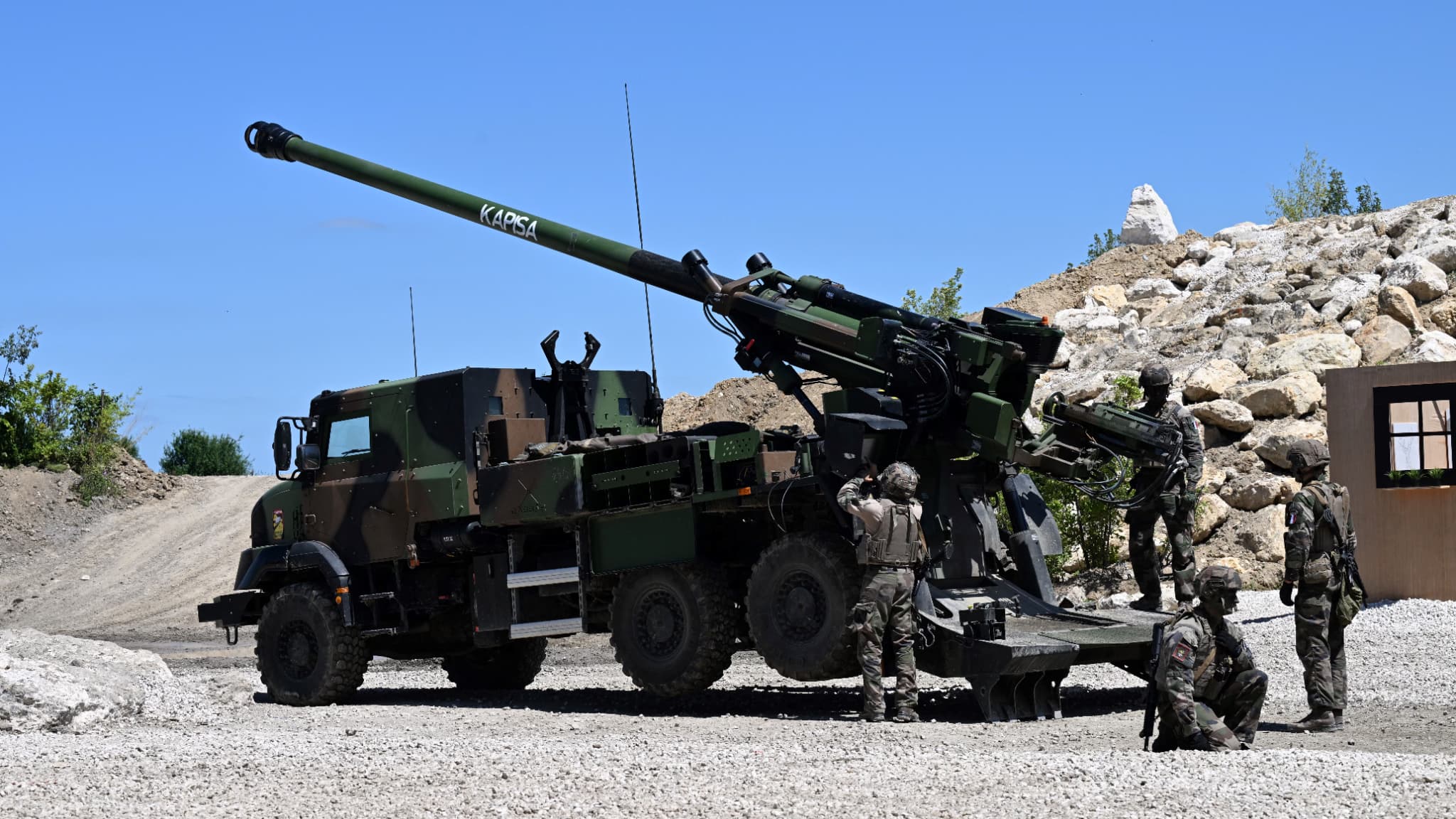 France sends 150 soldiers to Poland to train Ukrainians
Sébastien Legourneau, the Minister for the Armed Forces, indicated today that "150 French soldiers will go to Poland at the end of February for armed training battalions in connection with Poland".
"The goal is to train 600 Ukrainian soldiers per month," he added.
However, the minister noted, "Their use of the weapons we hand over to them is purely for self-defense."
Washington accuses Russia of not honoring the last nuclear deal
The United States said today that Russia is not honoring the nuclear disarmament treaty New Start.
U.S. diplomacy has criticized Moscow for canceling planned inspections and negotiations under the treaty without accusing Moscow of expanding its nuclear arsenal beyond agreed limits.
Ukraine Prime Minister confirms Ukraine-EU summit in Kyiv on Friday
Prime Minister Denys Chymikal confirmed Friday's Ukraine-European Union summit in Kiev, a day after "intergovernmental consultations", which will be held "for the first time in our history".
"The fact that this summit will be held in Kiev is a strong signal to allies and enemies," Denys Simikal announced at a government meeting, adding that "a positive mid-term assessment of our efforts for European integration can be expected from the summit."
Several groups in the Assembly are calling for a debate on Ukraine
Several leaders of political groups in parliament called on Tuesday for a debate in parliament on the war in Ukraine, with Prime Minister Elizabeth Bourne pledging to help "until victory comes".
"Are you prepared to organize this debate in Parliament?" asked Olivier Marlix (LR) to the Prime Minister.
The LFI, Communist and RN groups joined the Republicans in the debate program before the speaker of the Ukrainian parliament, the Rada, Rauslan Stefanchuk.
France to deliver 12 more Caesar guns to Ukraine
France will deliver 12 additional Caesar cannons to Ukraine and send 150 soldiers to Poland to train 600 Ukrainians per month, for a total of 2,000 Ukrainian soldiers over the summer, Defense Minister Sébastien Lecornu announced.
Number one of the Ukrainian parliament reaffirms Kiev's desire to join the EU
Ruslan Stefanchuk, the speaker of the Ukrainian parliament, spoke of Kiev's desire to rejoin the EU and NATO.
Last June, the leaders of the twenty-seven recognized its status as a candidate for the European Union.
The Speaker of the Ukrainian Parliament asks to send fighter jets in front of the delegation
Speaker of the Ukrainian Parliament Ruslan Stepanchuk addresses the National Assembly this afternoon.
"Give us airplanes, the wings of our victory. These wings will protect not only Ukraine, but all of Europe," Rada's No. 1 launched.
Emmanuel Macron is not closing the door on sending fighter jets but setting specific conditions.
Ukraine announces it will receive "between 120 and 140" Western heavy tanks
Ukraine will receive "between 120 and 140" Western heavy tanks, Ukrainian Foreign Minister Dmytro Koleba said, days after the West gave the green light for such deliveries.
"In the first wave of contributions, the Ukrainian Armed Forces will receive 120 to 140 modern tanks of Western models," the minister said in a video on Facebook.
The Russian Olympic Committee says Russian athletes should participate in the Olympics without restrictions
The head of the Russian Olympic Committee said on Tuesday that Russian athletes should participate in the Olympic Games without a ban, while the IOC will consider arranging for banned athletes to return to the 2024 Olympics under a neutral flag. Ukraine's anger.
"Russians must participate under the same conditions as other athletes. Any additional terms and conditions are not welcome, especially those with political elements that are completely unacceptable to the Olympic movement," said Stanislav Postnyakov.
Vladimir Putin wants joint military training centers with Belarus
Russian President Vladimir Putin has asked his government to negotiate the creation of joint military training centers with Belarus, its neighbor and rare ally, to support an offensive against Ukraine.
In a decree issued on Tuesday, he instructed his defense and foreign ministers to negotiate with Minsk on the creation of such centers, without providing further details.
In mid-October, Belarus and Russia announced the creation of a joint military force, which, according to Minsk, had a purely "defensive" mission. The two countries continue to hold large-scale military exercises, fueling speculation that the Belarusian military could launch an attack on Ukraine.
There is no "official discussion" in Poland about the transfer of F-16 fighter jets to Ukraine
The transfer of F-16 fighter jets from the Polish Air Force to Ukraine is not subject to any "official discussion", a deputy defense minister says, a day after the US refused to deliver the machines. kyiv.
"There is no substance", confirmed Wojciech Skurkiewicz.
Poland has 48 US-made F-16 fighter jets.
Moscow claims to have captured a new village near Bagmouth
Russia claimed responsibility on Tuesday for capturing the village of Blakotadne, north of the city of Pakmud in eastern Ukraine, where the Russian army has been slowly advancing for weeks, intensifying its offensive.
The Defense Ministry indicated in its daily press release that "Blakodatne area has been liberated" after an attack by "volunteer assault units" supported by aircraft and artillery.
Volunteers are the Russian military's euphemism for paramilitary groups like Wagner fighting in Ukraine. Also, Wagner's leader, Yevgeny Prigozhin, claimed that his men captured the village this Saturday, which Kiev denied.
The Kremlin accuses the Baltic states of taking a "too aggressive stance" on Ukraine.
The Kremlin said on Tuesday that Lithuania's calls to provide fighter jets to Ukraine were evidence of a "very aggressive stance" by the Baltic states, a stance that "major European countries" should balance.
The news comes as Ukrainian officials stepped up calls to send fighter jets to allies.
Flight warnings sounded across Ukraine
Airborne warnings sounded across Ukraine on Tuesday, the Kyiv Post reported.
"The air alert is related to the operation of the hypersonic missile carrier 'Kinsel' – MiG-31K in Belarus," Ukrainian media explained.
Russian court fines Twitch €52,000 for 'false news' about Ukraine
A Russian court on Tuesday fined streaming service Twitch 4 million rubles (52,000 euros) for failing to remove what it called "disinformation" about Russia's military campaign in Ukraine, Reuters reported.
Norway pledges to supply tanks to Ukraine 'as soon as possible'
Norwegian Defense Minister Bjorn Arild Gramm has pledged to supply Ukraine with tanks "as soon as possible", the latest in a number of Western countries to confirm such supplies.
The number of tanks has yet to be determined, he said, but the exchange should include German-made Panther 2s.
Croatian president blasts Western decision to send tanks to Ukraine
Croatian president described NATO allies' decision to supply tanks to Ukraine as "crazy".
"I am against sending lethal weapons there. It prolongs the war," said Zoran Milanovic.
He added that "it is clear that Crimea is no longer part of Ukraine" despite Volodymyr Zelensky's aim to recover the province, which was annexed in 2014.
Emmanuel Macron will meet the Ukrainian Defense Minister in Paris this Tuesday
Emmanuel Macron will receive Ukrainian Defense Minister Oleksiy Reznikov at the Elysee Palace on Tuesday, the French president's office announced.
The purpose of the meeting was to "reiterate full support for Ukraine in the fight against Russian aggression and to recall France's readiness to meet the needs of the Ukrainian armed forces," a press release said.
He will meet with Ruslan Stefanchouk, speaker of Ukraine's parliament, the Rada, who is due to address the National Assembly at 3pm, then before senators on Wednesday.
Human Rights Watch is calling on Kiev to investigate the use of landmines
Human Rights Watch Called this Tuesday Ukrainian officials are investigating their military's use of rocket-propelled anti-personnel mines in and around Issem in the eastern part of the country as Russian forces occupy the region.
"Ukrainian forces appear to have widely scattered landmines around the Izium area, causing civilian casualties and constant danger," said Steve Goose, weapons director at Human Rights Watch.
"Russian forces have repeatedly used anti-personnel mines to commit atrocities across the country, but this does not justify Ukraine's use of these banned weapons," he added.
Russia and Belarus begin week-long military exercises
Russia and its ally Belarus have begun a week-long exercise for a regional group of armed forces. SkyNews reports.
The Belarusian Defense Ministry explained that the exercise is part of the preparation for joint exercises to be held by the two countries in Russia in September.
Belarus is not directly involved in the conflict in Ukraine, but Russian troops have been training in the country for months. In addition, Moscow and Minsk have created a group of joint forces.
Franco-Australian Agreement to Supply Arms to Ukraine
The defense and foreign ministers of France and Australia announced on Monday the delivery of jointly produced 155 mm shells to Ukraine.
"The idea is to provide substantial assistance, an effort that will continue over time," said Sébastien Lecornu.
Australian Defense Minister Richard Marles praised the Australian "multi-million dollar project" and "new collaboration between the Australian and French defense industries" after the submarines' failure.
Macron believes the US will not deliver F-16 fighter jets, saying "nothing is off limits".
This Monday, Joe Biden promised that the Americans would not provide warplanes to Ukraine this evening, thus wiping out Volodymyr Zelensky's appeal.
For his part, Emmanuel Macron has not closed the door on him. "In principle, nothing is forbidden," he said during a trip to The Hague, adding that it should not weaken the French military or touch Russian soil.
Hello everyone!
Welcome to this live program dedicated to the war in Ukraine this Tuesday, January 31, 2023.
"Total coffee junkie. Tv ninja. Unapologetic problem solver. Beer expert."