My dear wretched, dear innocents,
Yes.
"We're going to see what we're going to see," boasted Bruno Le Maire, our uncle's economic affairs officer.
Our aim was to destroy Russia.
And the Minister of Economy proudly declared, "We are going to cause the collapse of the Russian economy"!
You don't believe me?
The internet and I have a memory…
A horrible memory.
Don't imagine I'm pro-Russian, but imagine I'm not pro-Ukraine.
I am pro-French, which means that I protect and think of the interests of France and our people before thinking of Moscow or Q.
For others I am a pragmatist. I look after him.
And what can we see?
The European economy is suffering massively and it's… no, the Russian economy isn't collapsing, but it's not.
Even better, Russia has never been flush with cash from its hydrocarbon and energy revenues, which are bought at high prices around the world.
You may not believe me.
You can shout misinformation.
But before that, take the time to listen to François Lenglet on RTL's morning.
Almost everything is said.
#Gas : "Russia doesn't need bailouts, it's literally awash in cash after the Ukraine invasion", according to François Lenglet #RTLMatin pic.twitter.com/1LXUz0WbV9

– RTL France (@RTLFrance) August 31, 2022
What goes without saying is that we are ruled by the devils.
It is not the Russian economy that is collapsing.
The European economy is being crippled by a lack of abundant and cheap energy.
Telling people it's Putin's fault, saying it's for our freedom, and making decisions with the same narrative under the regime of Covid and Security Councils is what we have the right to expect as citizens anyway.
If you're not sure why you'll be cold this winter, don't worry too much.
Mac Kinsey and Mamamouchi Macron know how to build a small campaign (Read more about nudge handling techniques here) with small onions, but your chives will be cold. And for good reason. No gas to boil the pot.
Only the government knows how to create deficits and… print ration tickets!
It is already too late, but all is not lost.
Brace yourselves!
Charles Channott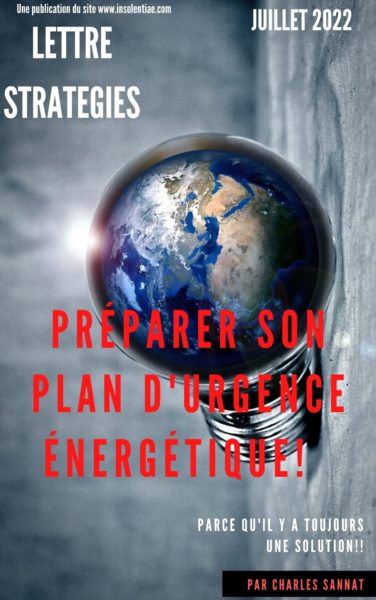 "Insolentiae" means "impossible" in Latin
Write to me at [email protected]
To write to my wife [email protected]
You can subscribe to my monthly newsletter "Strategies" where I share with you concrete solutions that will allow you to go further and prepare you for the next world. These solutions are articulated around the PEL approach – heritage, employment, location. The idea is to share with you the means and methods to sustain your personal and family resilience.
"To suppress peaceful revolutions, one makes violent revolutions inevitable" (JFK)
"This is a 'pressslip' article, that is, if you continue to reproduce this paragraph without reproduction in whole or in part. Insolentiae.com is the site where Charles Channat expresses himself daily and provides unbiased and uncompromising analysis of economic news. Thank you for visiting my site. www.insolentiae. You can subscribe to the daily newsletter for free at com. »
"Total coffee junkie. Tv ninja. Unapologetic problem solver. Beer expert."