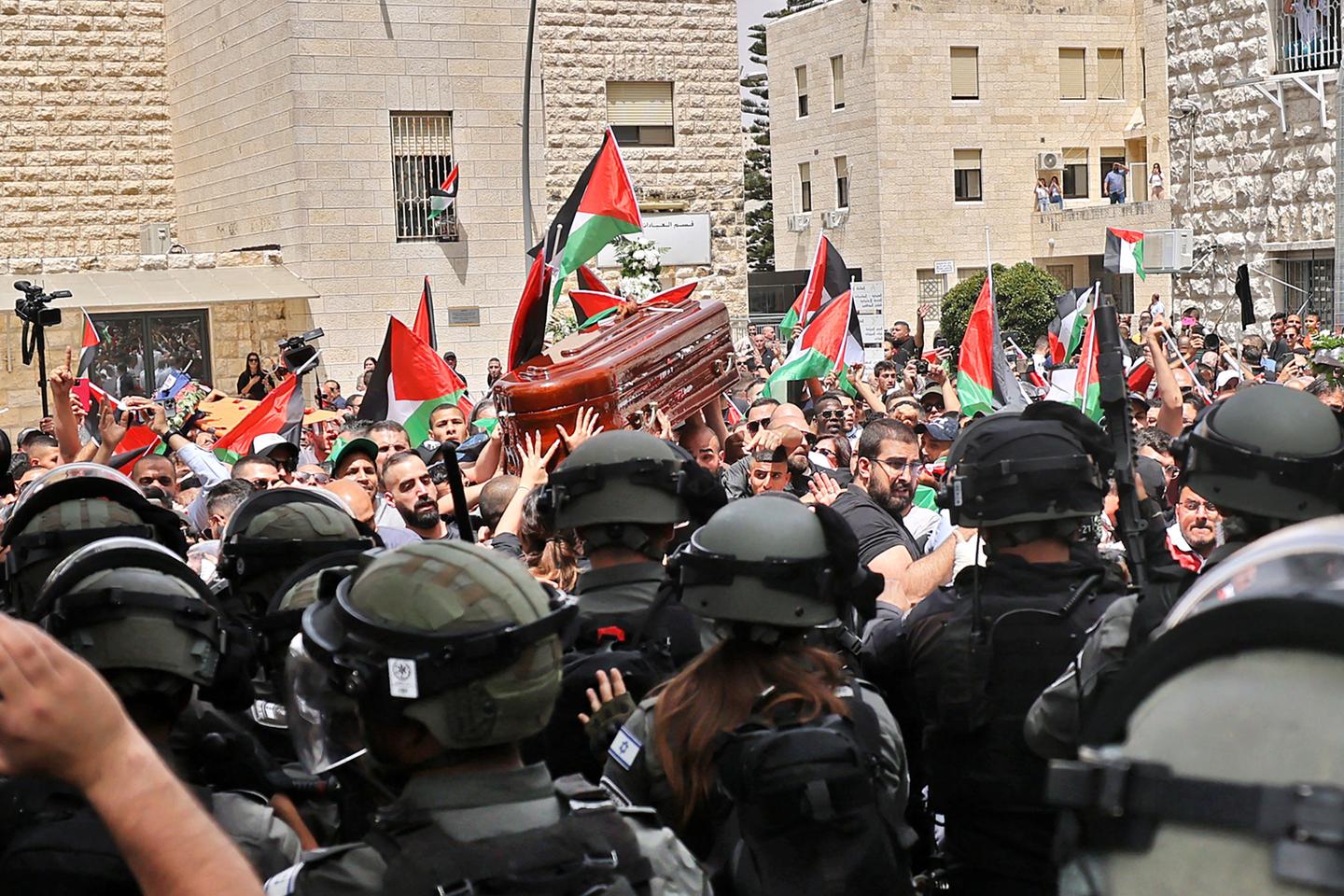 This day of the Palestinian national funeral begins under the cane. Just before 2pm on Friday, May 13, Israeli police exploded in the courtyard of St. Joseph's Hospital in East Jerusalem, from where the body of journalist Shirin Abu Agle was about to reach the Old City. Thousands of Palestinians are waiting to pay their last respects to the woman, believing she was shot dead by the Israeli army during a raid in Jenin (northwest coast) on May 11.
Police blame those who gathered in the hospital yard. They grab the coffin and push it against the wall as they advance towards the rails. They go behind two porters. At least ten sticks in the ribs and shoulders of one of them, a kick in the buttocks and ended up collapsing. The coffin is tilted 45 degrees and lives in front of the cameras, but does not fall.
"The police wanted to stop him from marching through Seik Jarrah district. They indiscriminately attacked men, old women and children. They threw grenades at the entrance of the building, entered and intimidated the patients. Says Jamil Kausa, director of the firm. Fourteen people were injured, three of whom were hit in the head with rubber-rimmed metal bullets. They all returned home at the end of the day.
An Israeli official has previously met with the EU envoy and French ambassador to Sri Lanka. Causa warned – the legacy of the Ottoman period is the identity guard of St. Joseph's Hospital in Paris. He did not want to see Palestinian flags or hear nationalist slogans. "But no one can control it!" It is not in our hands or in the hands of the family. The director sighs. According to Israeli Arab MP Ahmed Tibi, the police had made a similar request to the relatives of Shireen Abu Agle the previous day. By the afternoon of his death, already, police were trying to remove a flag from their home in Jerusalem, where they were mourning.
"Nationalist provocations"
Police say they responded Friday to slogans they called "Nationalist Provocations". She says she got the stones. Shortly before her attack, she broadcasts videos of men throwing objects that look like water bottles and other images of stones lying on the ground, without context. In Washington, the White House said to itself "Deep annoyance (…). We condemn the infiltration which should have been a peaceful procession. "
You should read 65.63% of this article. The following are for subscribers only.
"Total coffee junkie. Tv ninja. Unapologetic problem solver. Beer expert."